46.30 mm trademarked writing slope case in 18K red gold or platinum
Nine-day power reserve with a single barrel
Day, month, leap year, and retrograde double-sided date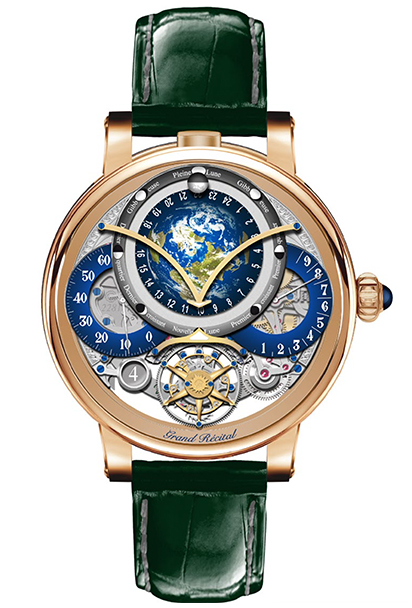 Seconds on the double-sided flying tourbillon
Rotating earth 24-hour display and three-dimensional hemispheric precision moon
Overview
The Récital 22 Grand Récital received the Aiguille d'Or in 2018 at the Grand Prix d'Horlogerie de Genève.
It features hours, retrograde minutes, seconds on the double face flying tourbillon, precision moon phase, retrograde double-sided date, a fabulous 9-days power reserve with a single barrel and a retrograde perpetual calendar on the back.
Presented in the "writing slope" case, the Récital 22 Grand Récital is BOVET's Engineering Brilliance at its best.
The hand-painted globe performs one anti-clockwise rotation every 24 hours
The power reserve indicates an impressive nine-day power with a single barrel
A patented double-sided flying tourbillon was chosen to regulate this caliber
The sphere is divided into two parts: one black, while the second is engraved with the textured surface of the moon. The engraved sections of the second half are filled with a luminescent substance, which makes it possible to clearly see which part of the moon is directly illuminated by the Sun
The hand-painted globe performs one anti-clockwise rotation every 24 hours. At the base of the globe, a graduated scale displays the hour by means of a three-dimensional polished titanium hand, situated between the tourbillon and the globe.
The earth is represented by a hemisphere on the Récital 22, the surface of which is adorned with an engraved and hand-painted map luminescent substances into the miniature painting, on which the oceans, mountains, deserts, and forests are executed in painstaking detail.
Zoom in to discover the details
Zoom in to discover the details
The moon is represented by a sphere that makes a complete orbit once every 29.53 days exactly, which corresponds to the synodic period of our natural satellite. The high-precision mechanism that powers the moon and moon phase display, also visible on the Earth's concentric ring, means that it will register a discrepancy of just one day every 122 years.
The collector's pleasure continues while exploring the back of the case of the timepiece to discover a Retrograde sapphire date that shares its display on the dial of the timepiece, a perpetual calendar, and a single-window that displays the hour only.
A single barrel supplies the 709 components of this complex caliber while providing a power reserve of over nine days.
Zoom in to discover the details